5 min read
Taking Education Beyond School Walls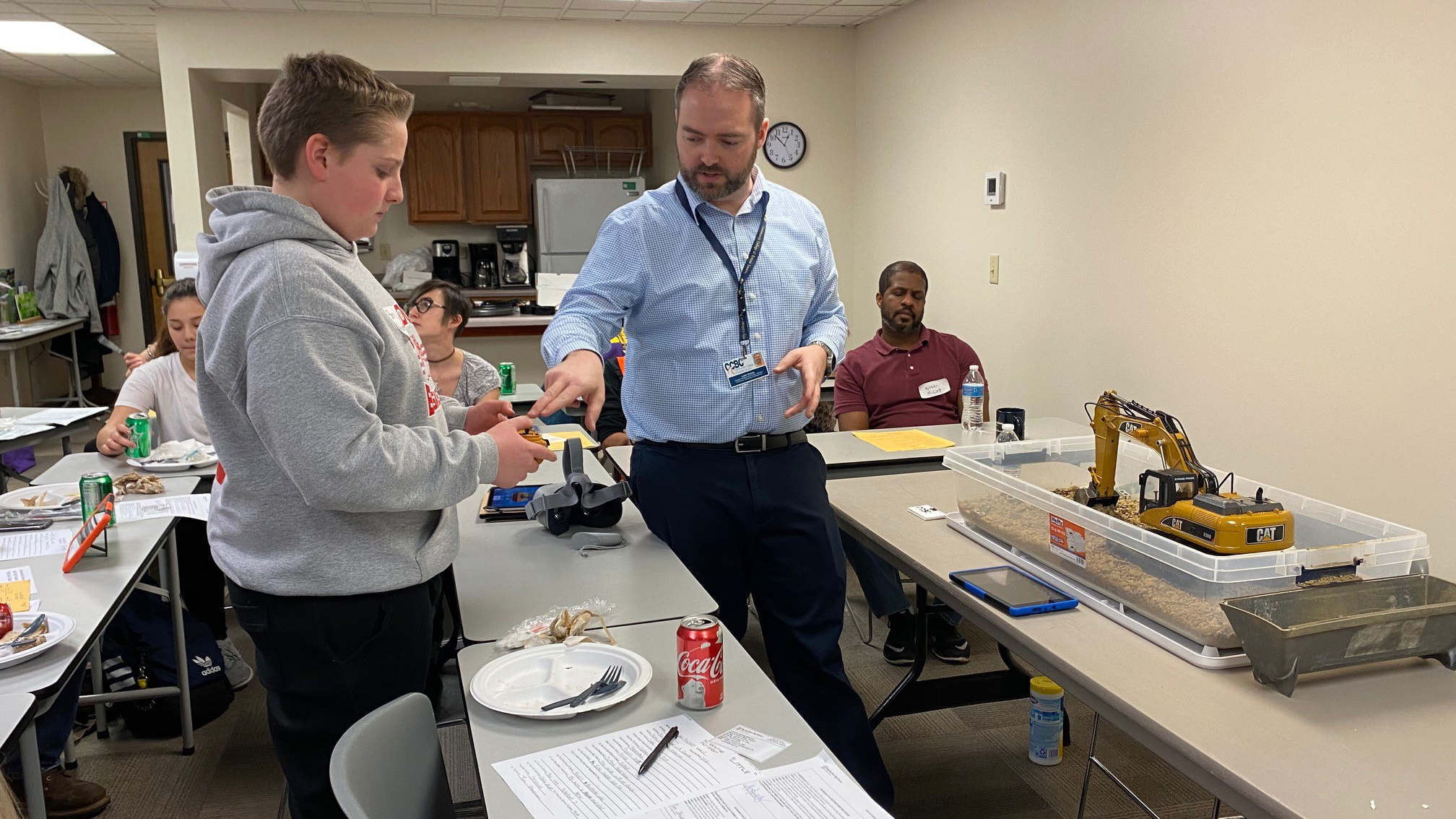 On May 6, Lincoln Learning Solutions and Big Brothers Big Sisters (BBBS) of Beaver County shared an important milestone. Working together alongside Freedom Area School District, they hosted the first virtual meeting of the Beyond School Walls program.
The goal of Beyond School Walls is to help teens explore future employment options, gain a better understanding of the jobs available in and around their communities, and receive the one-to-one guidance and support of a mentor. After learning about the success of Beyond School Walls in the Philadelphia area, Executive Director of Big Brothers Big Sisters of Beaver County Kim Anastas knew she wanted to make it available to area students.
She officially launched Beyond School Walls in January 2019 with Community College of Beaver County employees acting as mentors to students in the Central Valley School District.
The program works by BBBS securing partnerships with local companies who supply funding and mentor volunteers. BBBS matches mentors (Bigs) with 8th and 9th grade students from local school districts (Littles) who have similar interests. The Bigs and Littles meet monthly throughout the school year and will continue doing so until the Littles graduate high school.
During meetings, the Littles learn about career paths by listening to speakers or watching demonstrations. Bigs and Littles also have time to talk about whatever is on the Little's mind. Funding is used for background checks for Bigs, student bussing, match support and other expenses.
Anastas explained the program benefits for all involved.
"In students, we see an increase in self-esteem, improved grades, improved behavior and improved communication with both peers and parents. As for our mentors,' said Anastas, "they are really committed and seem to love it. Many of them said they feel like they are getting more out if it than they put in."
After months of preparation with BBBS, Lincoln Learning's Vice President of Philanthropy George Pacinda launched Beyond School Walls at the Rochester-based educational nonprofit in early December. He explained that the Lincoln Learning staff and their talents were a perfect match for mentorship opportunities.
"Our executive staff and our Board were looking for a way to support Big Brothers Big Sisters, but we wanted to help them through the talents of our people. [Educators] have a natural empathy for young adults," he said.
Once Pacinda finalized the Lincoln Learning volunteer list and the Rochester and Freedom Area school districts organized their students, BBBS matched the Bigs and Littles.
Between December and March, the group met monthly in Lincoln Learning's Beaver office to listen to representatives from various career fields and organizations speak about their occupations and answer student questions. After the presentations, Bigs and Littles caught up over lunch.
Ron Kelm, College and Career Readiness Coordinator and Gifted Support Teacher for grades 9-12 at Freedom Area School District said that he and Barb Martz, the district's prevention specialist, immediately recognized the value of the program.
"We feel it is extremely important for students to be mentored by adults in career fields they are interested in and receive guidance to support as they navigate life beyond the classroom," Kelm said. The students are responding well, too, he said, adding that many have expressed that the relationship they have built with their mentor has helped them become more confident in themselves in thinking about their futures.
"Our students really like that they can relate their interests and ideas to someone who is really out in the career field they have interest in. Many of our students in the program have been reticent in becoming motivated to explore opportunities with teachers and programs in the district. They have shared that the real-world connections they are getting are very helpful and eye-opening," Kelm said.
District officials are not the only ones noticing a change in Freedom students.
"The parents have seen a difference in the attitude their students are taking regarding school. Parents shared that it seems the importance of school and how it relates to [their students'] future has become clearer," Kelm said.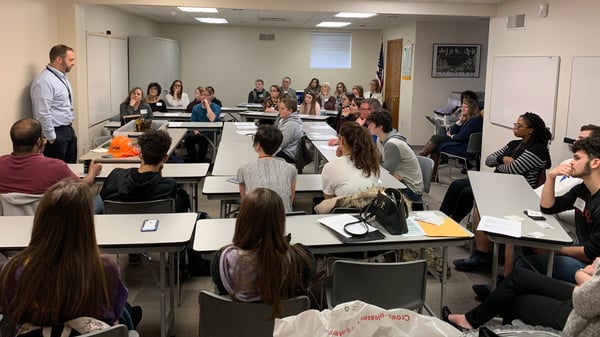 Justin Brooks, lead faculty for the Mascaro Construction Technology & Management Academy at the Community College of Beaver County, spoke to Beyond School Walls Bigs and Littles about construction careers in February.
When COVID-19 forced stay-at-home orders in Beaver County and across Pennsylvania in mid-March, Lincoln Learning and BBBS had no choice but to cancel the April 1 Beyond School Walls meeting.
"It was too quick," Pacinda said regarding the April meeting, "but we are an online provider of curriculum. Why shouldn't we be able to meet virtually?"
At that point, Pacinda, Anastas, and Rebecca Hunter, Beyond School Walls Program Coordinator at BBBS, began exploring what it would take to host a virtual Beyond School Walls meeting.
Anastas explained that continuing the program during the pandemic was a way to provide the students with some much-needed structure and friendship.
"Students are fearful," Anastas said, "and they've got a lot of questions. When teens see that their parents are stressed, they want to avoid stressing them out more. Mentors give these students an adult perspective and someone they can rely on for information, friendship and encouragement."
After getting the green light from Freedom, exploring Zoom for video conferencing, and securing speaker Janeen Petrisko, Director of Instructional Services at Lincoln, the group set the online meeting for May 6.
Petrisko discussed her career path, touching on the various types of teaching careers and the schooling and testing involved in earning a state teaching certification.
"Students are familiar with what their teachers do in front of them every day, but they may not know how hard teachers work while no one is looking," Petrisko said. "I wanted to make sure that the Littles understood that there is much more to a career in teaching than meets the eye."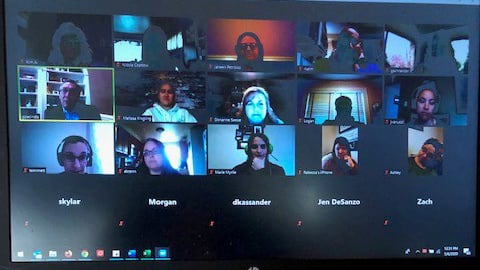 The virtual Beyond School Walls meeting on May 6.
Kelm said the first virtual meeting went extremely well and his students were excited to participate in a new way.
"Janeen Petrisko did a phenomenal job presenting teaching as a career, and the mentors' participation helped to motivate our students," Kelm said, adding that the program is helping his students through the pandemic.
"Many of our students have taken a step back in regard to the importance of continuing their education during the crisis," Kelm said. "The program helps students to see, in the real world, adults still have to be responsible for work obligations, even if the way of completing them has changed."
"It really helps our students see how adults must adapt to difficult situations and be able to find other solutions rather than just giving up if things do not work correctly the first time," he added.
Because of the program's success thus far and the ways in which students are responding, Lincoln Learning, BBBS, and Freedom have decided to extend sessions throughout the summer. Kelm said he sees many positives in this plan.
"This summer will provide a challenge not yet experienced by any of us. Students will not have had in-person instruction for at least 4 ½ months. Virtual learning has become the norm, and it will give our students more experience in adapting to virtual experiences," he said. "[Summer meetings] will help them to be successful in the fall if we are still providing instruction virtually."
Looking ahead, Anastas and Pacinda hope to expand Beyond School Walls to more Beaver County school districts. Currently, four of the county's 14 districts are involved.
Kelm said he would encourage other districts to explore the program as well.
"Schools were meant to help students," he said. "They can help students in other ways than by teaching what the state requires. This program helps put [our students] on a career path. When a student graduates, we don't want them wondering what they are going to do next. We want them knowing they have a direction and a plan of how to get there, and [Beyond School Walls] is providing assistance in that process."
Anastas added that Beyond School Walls is only possible through the generosity of local businesses that see the value of nonprofit programming.
"We are especially thankful for the support of Cottrill Arbutina Wealth Management, Community College of Beaver County, Eaton Corporation and The Pittsburgh Penguins Foundation for supporting this program."
For more information about how Beaver County businesses and school districts can get involved, email Kim Anastas or Rebecca Hunter at info@bcbigs.org or call (724) 843-4600.