4 min read
Play, Learn, and Explore: Summertime Activities for Children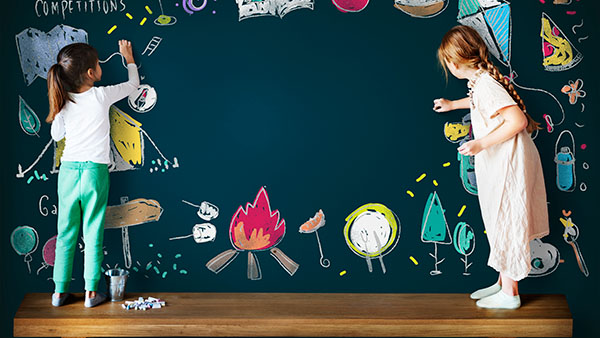 With Memorial Day in the rear-view mirror, students are getting excited about summer break, but learning doesn't have to stop when the final school bell rings. In fact, summer is a terrific time for children to explore new interests, cultivate their creativity, develop valuable skills, and hone the lessons they learned in their classes. We reached out to our teachers for ideas to ensure your children will have an enjoyable, yet productive break. Here's what they offered:

Make friends with Mother Nature
Warm weather has so many advantages, not the least of which is providing an opportunity to venture into the great, fascinating outdoors. Plan nature walks and hikes, or trips to parks and botanical gardens. These venues generally have visitors' centers or areas for educational brochures and maps. Observe and identify plants, insects, and animals along the way. Children document their findings and create nature-inspired art projects using materials they collect during their explorations. Butterfly atria, aviaries, and zoos are also wonderful experiences for kids. Get inspired to learn outside year-round.
Go on reading adventures
Encourage children to embark on exciting reading adventures. Visit your local library and help them select books based on their interests or tap your librarian, who is a great resource for popular books for all reading levels. Create a cozy reading nook in their bedrooms – replete with pillows, blankets, stuffed toys, and adequate lighting – and dedicate a time for reading each day. You can even organize a book club or join reading programs to make it fun for your children to discuss their favorite books with their peers. Even older children should make time to read.

Be your own Food Network star
Involve children in the kitchen and let them unleash their inner chefs. Teach them age-appropriate cooking and baking skills while introducing concepts like measurements, following recipes, and kitchen safety. Encourage them to plan and prepare a family meal or experiment with their own recipes. Cooking and baking also provide opportunities to discuss nutrition and healthy eating habits. You can even plan your own competition based on your favorite TV cooking show. Get started with these kid-friendly recipes.
Unleash your entrepreneurial spirit
Start teaching children to tap into their entrepreneurial instincts by starting a small business or engaging in fundraising activities for their favorite charity. They can set up a refreshment stand, use those newfound kitchen skills to organize a bake sale, or sell the arts and crafts projects they created. This not only develops their financial literacy and organizational skills but also instills a sense of social responsibility and community engagement, as well as a strong work ethic. Use these tips to help your children think like a businessperson.
Break out the lab coats
Inspire budding scientists with hands-on experiments. Simple activities like creating volcanoes, growing plants from seeds, and conducting myriad basic water experiments can pique their curiosity and promote scientific thinking. Websites, videos, TV shows, and books dedicated to science experiments for children offer a plethora of ideas and step-by-step instructions that parents can easily facilitate at home. Here are some great lessons for a rainy day.
Channel your inner Michelangelo
Engaging in arts and crafts projects can foster creativity and artistic expression. Set up an art "studio" with various supplies and craft materials like colored pencils, paints, markers, clay, recyclables, and construction paper. Encourage children to explore different techniques, experiment with colors, and create their own masterpieces. Collaborative art projects, such as creating a mural or designing a family scrapbook, can also promote teamwork and storytelling skills. A myriad of great ideas for letting children explore through art are a click away.
Travel the world virtually
There are so many sites to see and places to go, but who has the time and money to get to all of them. That's where technology comes in. You can easily take your family on virtual field trips to historical sites, museums, and landmarks around the world. Ever since the pandemic, so many institutions are offering online tours and educational resources that can be accessed from home. You can involve your children more by letting them choose the destinations, write in a journal about their experiences, and create presentations to share with family and friends. The options are seemingly limitless!

Carpe Diem
Before you know it, the summer will be here and gone. So, seize the day! Summer break presents invaluable opportunities for children to learn and grow beyond the confines of the classroom. By incorporating these engaging and educational activities into your summer plans, you can be sure it will be enjoyable and productive. This is a great time to bolster curiosity, creativity, and exploration, and let the summer months become a time of personal growth, discovery, and lasting memories.