4 min read
Growing with Math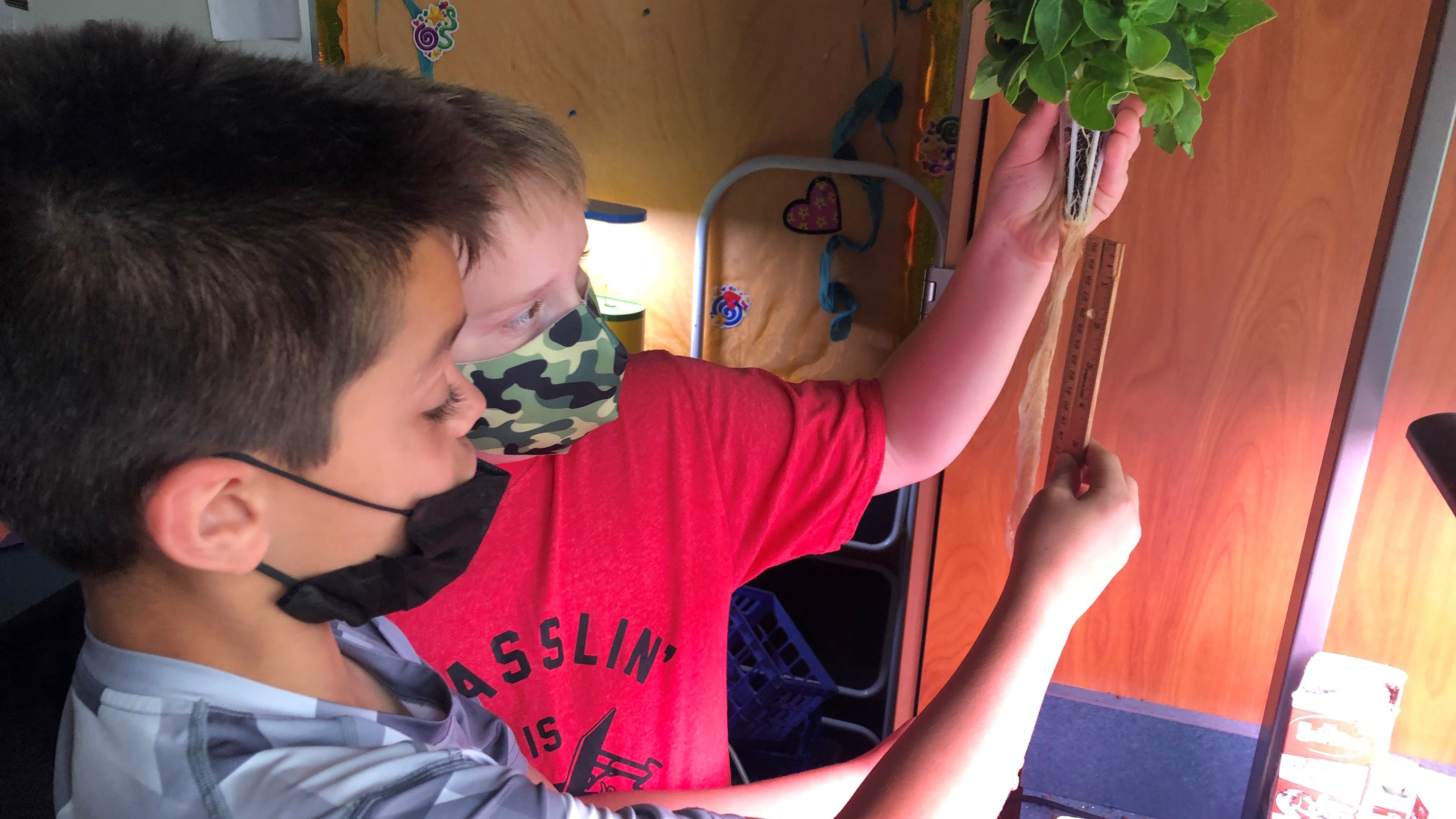 The third-graders in Desarai Porada's math class at Dutch Ridge Elementary in the Beaver Area School District are growing with math in more ways than one.
With the help of a Great Ideas Mini-Grant funded by the Beaver County Educational Trust (BCET) and Lincoln Learning Solutions, Porada started Math in the Garden with her 65 third-grade math students.
According to BCET Executive Director Jamie Connelly, over its 30-year history, the mini-grant program has funded 600 grant requests totaling $380,000 and reached more than 97,000 K–12 students in Beaver County. Of those funds, Lincoln Learning Solutions has donated $110,000 since its involvement in the program began in December 2014.
Porada said her idea for the project was two-fold but largely based on her desire to incorporate hands-on learning in her class.
"I believe that hands-on learning is more beneficial than paper learning," Porada said. "The students become more alive when they can do exploratory learning."
In her grant application, Porada explained that Math in the Garden gives students the opportunity to practice applying every third-grade math standard. The project also focuses on teaching students PSSA Domain 4 math skills and helps to prepare students for the open-ended math questions included in PSSA testing.
In March, Porada kicked off the project with her three classes by having the students plant seeds, which were placed in an indoor AeroGarden hydroponic system donated to the school by PPG Paints last year. Schnieder Dairy donated the cartons for planting.
Porada explained that the AeroGarden targets plant nutrition and allows students to lift plants and examine the roots. A computer inside the AreoGarden controls the amount of food and light the plants receive.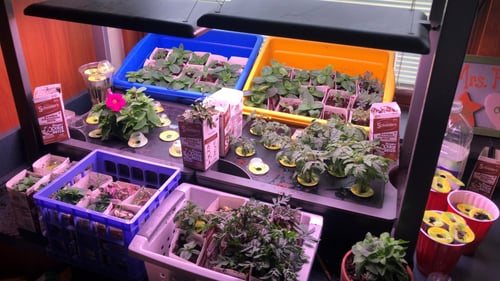 Porada's students were thrilled when she announced the project.
"My whole family is a plant family, so we garden," said student Landon Brailey. "Knowing we were going to do math in the garden was really exciting."
Porada used her $500 mini-grant to purchase seed pods, potting soil, fertilizer, troughs, and materials that would be used to move some of the plants to their final home outside Dutch Ridge Elementary. The students grew approximately 200 plants over the duration of the project.
Once the plants began to grow, math became the focus of the project. The students used rulers to measure the growth of their plants and compare plant heights. They also learned to measure in both inches and centimeters, graphed growth rates, and used mass and volume to measure plant food and water. Additionally, they practiced adding fractions and determining equivalent fractions throughout the project.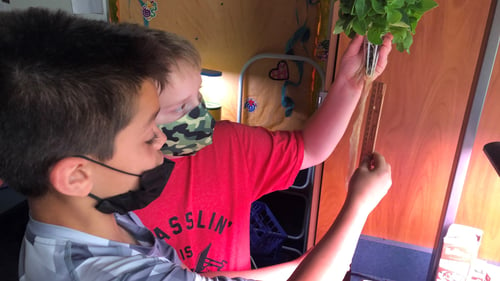 "They worked together as a team the whole time to figure out what is best for their plants," Porada said. "Normally, students only work with ruler measurements for about one week during the school year. They worked on the project for months and were measuring plant growth in quarter-inches daily."
Students took the project even further by challenging other classes to discover how they were using math in the garden.
After seeing the students' excitement, Porada seized the opportunity to introduce higher-level math skills, including geometry. As students prepared to take plants home for Mother's Day, they spent time cutting wrapping paper into abstract shapes and discussing those shapes.
"Geometry is so hard for a third-grader, but they spent the whole day actively involved in shapes," Porada said. "It blew my mind."
The project also created an abundance of cross-curricular learning opportunities.
At the project's end, each student created a Clips video and iMovie to describe five things they learned throughout the course of the project. They then spent a day watching each other's videos and writing comments stating what they liked most about the other students' work. Afterward, the students identified positive comments that made them feel good about their work and read those comments aloud.
"It's so fun to see them verbalize why they loved the project," Porada said, explaining the inclusion of English language arts in math class. "There is so much other curriculum that you could pull into this project."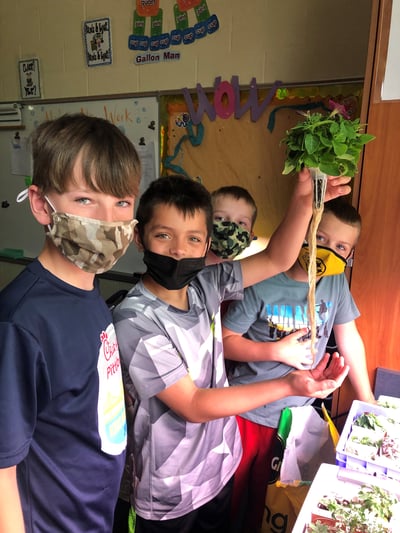 She explained that the peer-review portion of Math in the Garden also builds student confidence and teaches students to support each other.
"This process teaches students to reflect and verbalize, but it's also a really important way of including social and emotional learning for this age group," Porada said.
Porada said she was most surprised to see how the project helped her learning-support students. She explained that her class includes several autistic children who had difficulty verbally expressing themselves prior to the project but talked about plants during.
"Hands-on learning helps these children forget what they are trying to overcome," Porada said. "It gives them the confidence to express themselves."
The Beaver County Educational Trust plans to begin accepting applications for Great Ideas Mini-Grants in September.