This school year has brought more challenges than ever imagined. There's no doubt you want the best education for your children. Making sure your children are learning and staying on pace can create immense internal pressure, from both educational and parental standpoints.
The following tips will help soften the additional responsibilities of distance and online learning when your children are enrolled in the Lincoln Empowered curriculum.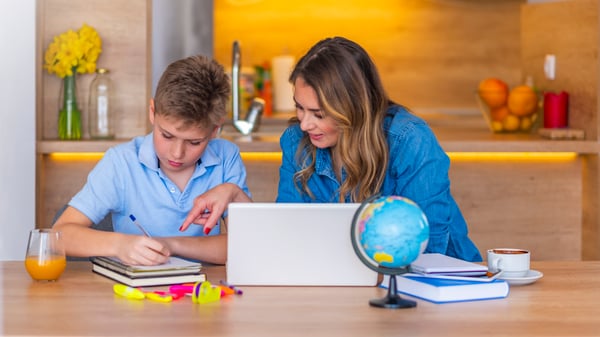 Adapting Activities
With the school year underway, you're likely learning as much, if not more, than your child. Adapting to a new way of learning has probably challenged you both. As you begin engaging with the Lincoln Empowered content, remember that it is adaptable. Try not to stress if your child is unable to complete an activity as it is written. Contact the teacher or your district's teacher mentor and adjust the activity as necessary.
For example, your child may encounter an activity where you need to visit a public place to learn more about it and have conversations with the staff. However, this may not be possible due to COVID restrictions. Consider having your child research the place online to learn more about it. Call the establishment instead of visiting. Or, role play the activity in your home.
If the activity is graded, reach out to the Lincoln teacher directly and explain your situation. Lincoln teachers are ready to help you find alternative means for completing coursework, if and when necessary. Teacher mentors provided through your local district can also provide additional guidance.
Remember, it's completely OK to spend less time on activities involving skills that your child has already mastered. Help them to focus on the activities that will foster the skills that need more development. Don't forget that every child learns differently, so try not to focus on what may be working for friends and family.
Supporting Learning Styles
This statement is worth repeating: every child learns differently. What works for one student may not work for another. Understanding how your children learn will help with facilitating distance and online learning.
Maybe your child prefers to hear lessons being read to them instead of solely reading the instructional text. Perhaps your child prefers reading literature through a physical text, rather than on a computer screen.
Review this article by Evan-Moor that discusses the seven learning styles. Try to determine how your children learn best. It's important to note that children may prefer multiple learning styles, depending on the content with which they are engaging or skills that they are building.
Understanding the way your children learn will help you facilitate their educational needs. The Lincoln Empowered curriculum is designed to cater to these unique learning styles. Let's look at a few examples.
For auditory learners, children can use the Texthelp option in Buzz to hear the text within the lesson read aloud as they follow along. Our K-5 elementary courses include Teach Its, where a customized avatar reads the lesson as a teacher might present instruction in a classroom. The Teach It is not a replacement for the Read It, rather a support for auditory learning.
For visual learners, encourage your children to use the visuals provided in the lessons to help engage understanding. Watch Its also provide educational videos to support visual learners.
Kinesthetic learners will learn best by completing the interactive, embedded lesson activities, such as card-sorting, crossword puzzles, and self-checks. Try taking activities offline, if possible, and get your children involved. Recreate a literary character with a Barbie doll and a homemade accessory instead of writing a description of one, for instance.
Navigating Supplies and Printable Materials
Right now, our supply kits and printed materials are on backorder due to the impact of COVID-19. We know this is causing stress for parents, but fortunately, you likely have many of the items on the supply lists in your home already.
Some items are more specific, but many of those can be replaced with household substitutions as well. For example, wooden blocks that are normally used to reinforce shapes can be replaced with anything in the house resembling that shape. Tissue boxes can serve as rectangles. Soup cans are great examples of cylinders. Plus, your child is now actively engaged offline, completing a "treasure hunt" throughout the house.
You can access digital copies of our pacing guides, workbooks, parent-teacher guides, and text collections from our Parent Resource page. Print the pages at your leisure.
If printing is not an option, use notebook paper and a pencil to complete an activity or create a Google Doc. It is not necessary to print out all the textual components. Some worksheets and activities are lendable for discussion, while others require writing or typing.
This year, learning looks and feels much different. It can be emotional. It can be frustrating. It can be downright exhausting. We are parents, too. We understand, and we are here to support you in every way we can.
As you approach today's lessons, remember that online learning is hands-on and requires parent monitoring. Encourage your child every step of the way. Our curriculum is a framework to help students master necessary academic skill sets. How that curriculum is implemented is flexible. We encourage you to explore all options and find what works best for your child and your situation.
If you have questions, please review our frequently asked questions or submit your question to our staff using the form at the bottom of the page.

Nicole Thompson is the Sales Support Specialist for Lincoln Learning Solutions. She has worked for the company for seven years, spending her first year in instruction and six years working in the curriculum department. Nicole has a Bachelor of Arts in Communications and a Master of Science in Instructional Leadership, with certifications in English and Communications. Nicole is married with three children and has a spunky golden retriever named Cinder. She sings at local churches and volunteers for the Butler County Humane Society, writing animal biographies and social media posts, and working fundraising events.