Just because it's summertime doesn't mean that the Penn State Beaver campus is quiet. In fact, you might run into a Quiddich tournament, stumble upon on crime scene (albeit staged), or hear the melody of your favorite showtune.
From mid-June to early August, Academic STE(A)M Camps are in full swing. Each year, children ages 7 to 15 are welcomed to campus to participate in an array of weeklong camps that focus on science, engineering, technology, arts, and math, or a combination of these subjects.
Dr. Debra Ann Roach, Director of Workforce Development in Penn State Beaver's Continuing Education office, said that the university offers 13 summer STE(A)M camps in addition to their sports camps for children ages 8 to 14.
"The (camp) curriculum is new every year and is vetted to ensure the academic components meet STE(A)M requirements," Roach said. Accommodations can be made for students with IEPs, she added.
"Most of the camps are led by K-12 teachers who are best equipped to work with youth in the age categories represented by our camps," Roach said, "and we do have some Penn State faculty who teach some of the camps. They are well-equipped to deliver both age- and academically appropriate curriculum for the camp."
Although camp themes change from year to year, some reoccurring favorites include Crime Scene Investigation (CSI), Musical Theater, and Wizardry School, which is based on J.K Rowling's Harry Potter series.
To help make the camps available and affordable to everyone, Penn State Beaver receives donations from local organizations and uses that money to offer scholarship opportunities to prospective campers. Lincoln Learning Solutions has contributed $1,000 for each of the past three years to this fund.
This year, 14 other organizations contributed, and the university awarded 18 scholarships.
Roach explained that all scholarships are based on socioeconomic need. Approximately 10 percent of camp attendees have received scholarship funds.
"A lot of campers come to more than one camp," Roach explained, "and we have a return rate of more than 50 percent."
Roach said that Academic STE(A)M camps operate on a zero budget, meaning all money that goes out to fund the camp is balanced by money coming in from grants or the cost of camp attendance. Contributions from donors, however, are strictly used to fulfill scholarship requests.
Camper safety is also a high priority. Roach explained that, each year, Penn State's Managing Compliance Officer visits the campus to ensure the following:

All adults involved in camps have the proper clearances.


Adult-to-student ratios are being met.


All safety measures align with Penn State policy.
During the CSI camp, Jazmine Kowalok-Miller and her fellow campers worked with campus police and camp leader Tracy Whipkey to investigate a (staged) crime scene on campus. They learned the art of interviewing witnesses and potential suspects, dusting for and lifting fingerprints, and bloodtyping, among other activities.
"I'm interested in being a cop or criminal investigator when I grow up," Kowalok-Miller said. "I wanted to learn more about it here, while I'm younger."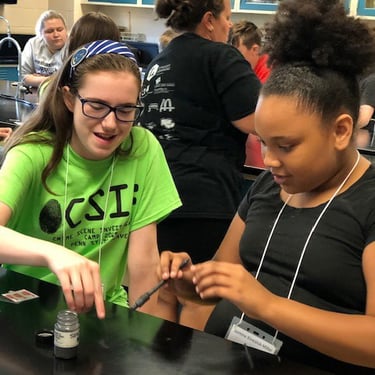 Children learn fingerprinting during CSI camp
In this year's Musical Theater camp, children performed Annie Jr. Roach explained that campers not only auditioned and rehearsed throughout the week, they also made their costumes and set the lighting.
"Musical Theater campers receive the script prior to the start of camp to be ready for auditions," Roach said. Because of the age range of campers, she explained that the older children, who often have theater experience, help the younger ones.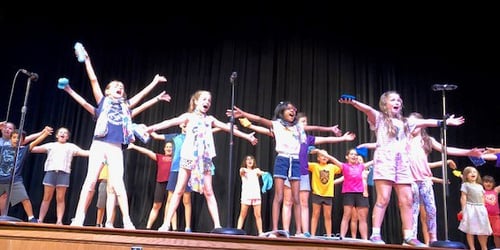 Musical Theater campers rehearse "Hard Knock Life"
Wizardry School is by far Penn State Beaver's most popular STE(A)M camp. It's also the longest running camp at 19 years. Based on the Harry Potter series, campers are broken into four houses from the novels: Gryffindor, Hufflepuff, Slytherin, and Ravenclaw.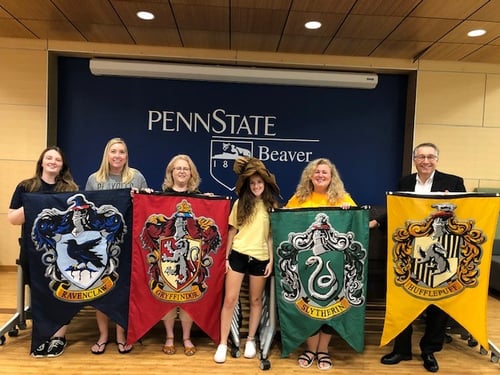 From left: Beth Pierce, K-12 Instructor, Camp Instructor; Allison Uber, K-12 Instructor, Camp Instructor; Elaine Hrivnak, University Instructor; Emily Hrivnak, High School Student, Jr. Camp Counselor; Deb Roach, Ph.D., Director of Workforce Development, Continuing Education & Youth Programming; George Pacinda, Vice President of Philanthropy at Lincoln Learning Solutions.
The academic component of Wizardry School is largely based around language arts; however, it also includes tactile art. Children in each house create a house newsletter where they write and edit content, take photos, and completely design the layout.
Wizardry campers also complete Dark Arts (crafts); compete in games of Quiddich, a fictional sport from the novels; and attend a field trip based on academic components of the camp.
This year's field trip was based on the most recent book in the series, The Prisoner of Azkaban. Campers traveled to the West Virginia Penitentiary for an age-appropriate tour of the prison, learning about its history and references to the book, Roach said.
"We are allowed to be as creative as we want," Elaine Hrivnak, Wizardry School leader said. "It's an intensive camp, and the crafts are amazing."
As of the publication of this article, approximately 500 children had registered for Academic STE(A)M camps this year. Prospective campers may register until the first day of camp. For more information, or to register, visit Penn State Beaver's website.