There's no doubt that "Frozen II" is a mystical, magical movie. Some real magic happened during The Tull Family Theater's sensory friendly screening for children with autism or other special needs on November. 30 in Sewickley, Pa., an event which Lincoln Learning Solutions had the honor of co-hosting.
An independent nonprofit, The Tull Family Theater will enter its third year of operation in February. Its mission is to strengthen cultural, educational, and entertainment experiences in the northwest region of Pittsburgh. Sensory friendly screenings are just one of many outreach initiatives aimed at accomplishing this goal.
During these special screenings, the theater's staff works hard to ensure families have a unique and calm experience from the moment they enter the venue. Carolina Pais-Barreto Thor, the theater's executive director, explained that the concessions line is always intentionally slow-moving so that families do not feel rushed.
"We hold the film if there are lines at the concession stand," Thor said. "We try to make things move at a comfortable pace."
Once families settled into their seats for "Frozen II," Thor addressed the crowd to explain the sensory friendly viewing experience. She told families that the theater door would remain open throughout the film, and the lights would remain on but dimmed. She also explained that the volume of film would be lower than that of a regular screening.
Thor explained that the theater was closed to the public throughout most of the film, and she encouraged families to get up and move around when necessary.
Jeff Inman and his son Michael, 26, of Franklin Park were among the 60 attendees at the show. Inman explained that his son has Down Syndrome and is autistic.
"Michael loves movies," Inman said, "and it's good to have a relaxed and understanding environment like this one."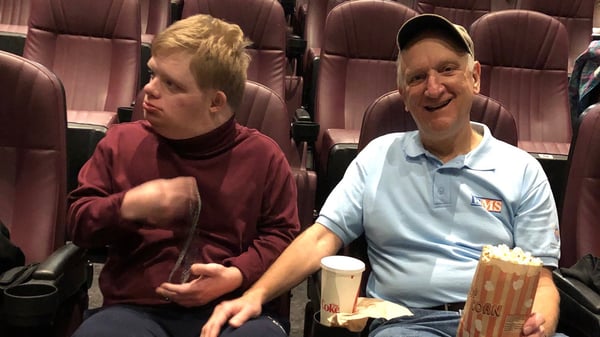 From left: Michael and Jeff Inman
Louanna and Donald Endicott of Beaver and their daughters Charlotte and Sadiebelle Endicott and Celeste Johnson experienced a sensory friendly screening for the first time at "Frozen II." Louanna explained that Charlotte has high-functioning, level 2 autism.
"We've tried two or three other movies, be we can't get her to settle with the noise in the theater. We didn't last more than 10 minutes," Louanna said.
Louanna said that Charlotte likes to talk during films, and she gets very excited to see the characters. Her excitement was evident during the film as she shouted, "Best day ever!" several times throughout the movie.
After the film, Louanna said that the event was a great experience for her and her family.
"Being able to see everyone relaxed in the same environment was helpful for us. It's still new, but it's a great way to help us introduce new situations. We'll definitely be back," she said.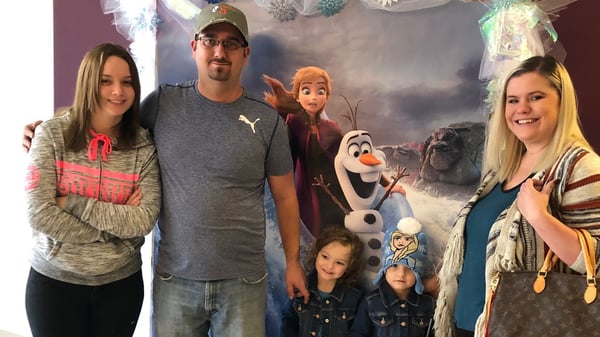 From left: Celeste Johnson, Donald Endicott, Charlotte Endicott, Sadiebelle Endicott, and Louanna Endicott
Karen Ferrick-Roman, the theater's director of communications and education, said The Tull Family Theater makes every effort to offer sensory friendly events as a regular part of their programming. In the past year, the theater has offered eight screenings, which includes films offered to both the general public and schools. "Frozen II" came in second for highest attendance, with "The Grinch" coming in first with 90 attendees.
Learn more about the educational outreach partnership between Lincoln Learning Solutions and The Tull Family Theater by visiting our blog.
Stay up to date on upcoming films, showtimes, or other theater events at https://www.thetullfamilytheater.org/.