Lincoln Learning is proud to recognize Robert Pratte and Aaron Csuy, recipients of the Penn State Lincoln Learning Solutions Endowed Scholarship.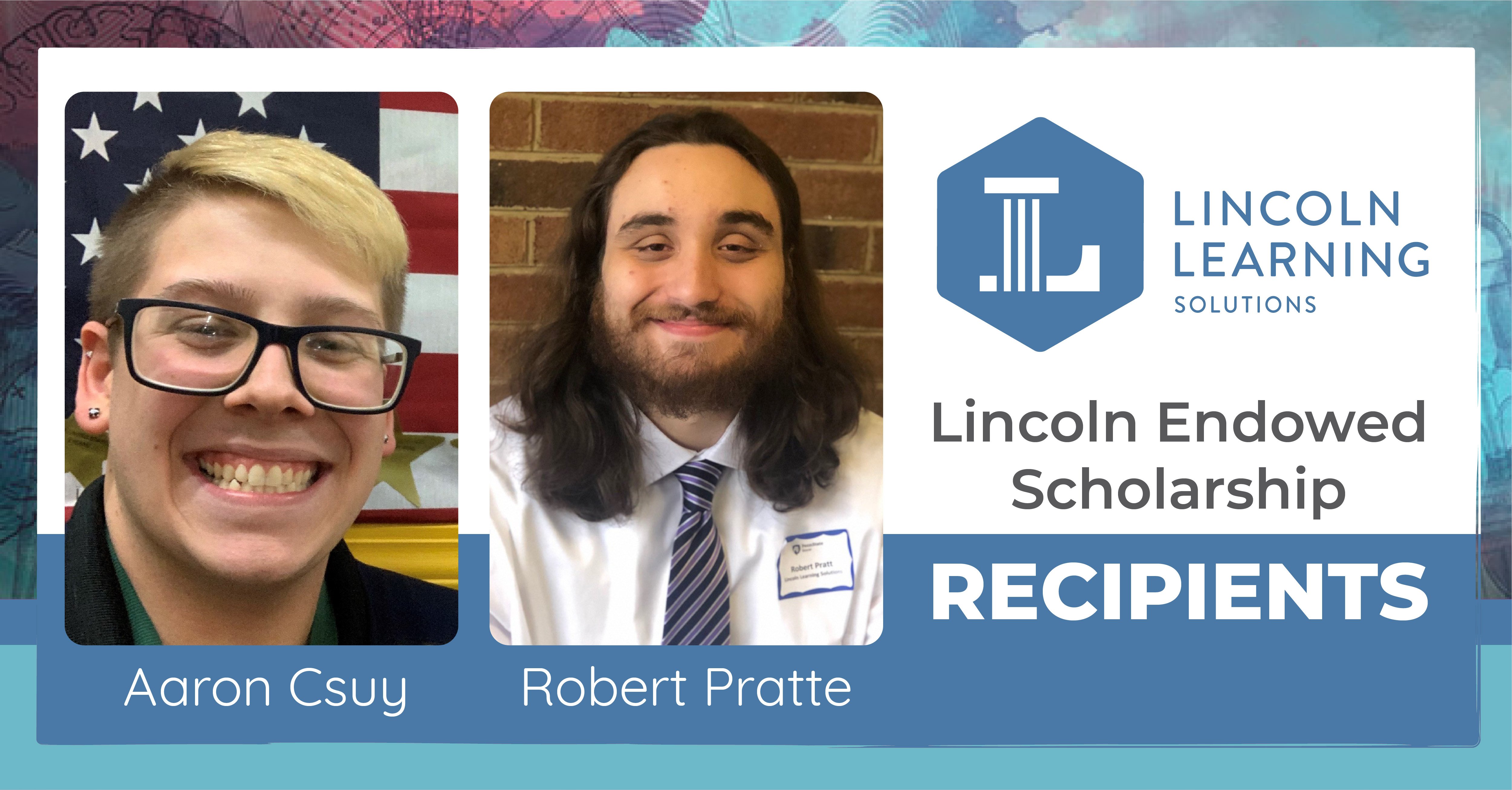 To create the scholarship, Lincoln Learning Solutions granted Penn State Beaver a gift of $50,000, payable over a five-year span. The university matched the gift, creating scholarship opportunities to support students in STEM programming at Penn State Beaver and recognize their hard work and academic success.
Daniel Pinchot, Penn State Beaver's director of enrollment, said that 87 percent of the students on campus receive some type of financial aid. He added that Penn State Beaver awards $1.1 million in institutional scholarships, and $250,000 of those funds come from donor scholarships like the Lincoln Learning Solutions Endowed Scholarship.
"These degrees could genuinely change the course of their lives," Pinchot said, stressing the importance of donor scholarships.
Scholarship recipient Pratte is from Rochester Borough and graduated from Quigley Catholic High School. Currently in his junior year at Penn State Beaver, Pratte is working toward a bachelor's degree in information services and technology with an expected graduation date of December 2020.
Pratte said he has always been interested in technology. After exploring out-of-state universities and their cost, he decided to stay local. Upon enrolling at Penn State Beaver, Pratte entered the Pathway to Success: Summer Start (PaSSS) program, which allowed him to take college-level classes in the summer before his first official semester.
Not only does the PaSSS program allow students to get a head start on earning college credits, they also receive a scholarship of $250 per credit for summer classes. This means they receive $1,500 for six credits the summer prior to their freshman year and $3,000 for 12 credits the summer prior to their sophomore year.
In addition to his studies, Pratte also works for the campus Information Technology (IT) Department, and he serves on the campus technology budget committee. This committee helps allocate the technology budget for IT students at Penn State Beaver.
After graduation, Pratte hopes to start a career in network security. He said he knew it was the right path for him when he was sitting in class, and for the first time, it didn't feel like class. He likened tracking down the origin of a computer virus to a puzzle.
"It's like detective work, only digital," he said.
Both recipients will use the scholarship funds to help defray the cost of tuition.
"I really want to express my gratitude [to Lincoln Learning Solutions]," Pratte said. "I can't thank you enough, and it really takes a weight off my family's shoulders."
The Lincoln Endowed Scholarship is renewable for two years, provided recipients maintain their GPA. Due to his academic success, Aaron Csuy received the scholarship for the second time.
Csuy is a 2016 graduate of New Brighton Area High School. He is currently a junior at Penn State Beaver and expects to graduate with a bachelor's degree in administration of justice in 2021.
After graduation, Aaron plans to attend the police academy to obtain an Act 120 degree in policing so he can pursue a career in law enforcement.
Outside of class, Aaron is getting plenty of experience in public service. He is in his fifth year of volunteer firefighting for Pulaski Township. He also works full time at Walmart in Chippewa Township.
When we met Aaron last year, he explained that he was following in his mother's footsteps by becoming a volunteer firefighter. He remembered riding in the firetruck with her while she answered calls for Pulaski Township's Volunteer Fire Department.
Sadly, Aaron's mother and grandmother passed away last year. He's now using his scholarship as a stepping stone for his future and a tribute to his family.
"The Lincoln Endowed Scholarship is helping me every semester strive for further excellence and help me achieve my goal of graduating with a degree," Aaron said. "Now I'm not only getting my degree for myself, I'm also getting this degree for my mother and grandmother, who left this world way too early."