In my household, summer break seems to be the peak time of year when my kids are asking for everything from new toys to private tumbling lessons. If they can imagine it, they want it.
The upside is that, as parents, we can turn these wants into a teachable moment for our kids. All the extra, unstructured time during summer offers the perfect opportunity to teach children valuable life lessons about money. These lessons go well beyond the old lecture about the lack of a money tree in the back yard.
Use this time of year to really teach your kids money skills: how to earn it, how to be wise with it, and even how to bless others with it.
Littlest Earners Ages 2-5
Preschoolers thrive on instant gratification. Instead of thinking lemonade stand, try a more simplistic approach to teach them about earnings. Fill a basket with some dollar store goodies. Print a picture chore chart, (check out these free printable) and set a simple chore goal to earn a prize from the basket. This teaches the basic concept that you can work to earn the things you want.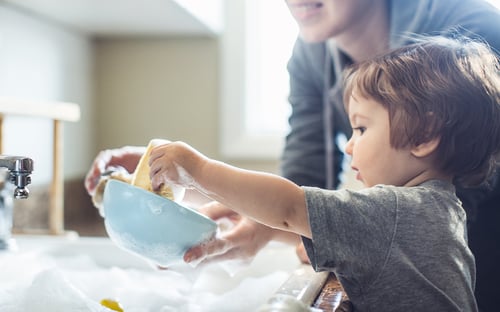 Earning at Ages 6-11
The skill sets of children in this age group will vary quite a bit. However, they can certainly learn the basic concepts of earning, saving, spending, and giving. Younger children will need a higher level of parental involvement.
I see you rolling your eyes over there. We are so busy already, how will we fit in even more time to help our kids become tiny entrepreneurs? Trust me, this extra time with your kids will pay off in more ways than one. Here are some ideas to get the discussion started:

Pet sitting/Dog walking: Summer is vacation time! According to AAA, almost 49 million Americans travel over the July 4th holiday alone. Marshall and Chase are not able to join the family on every adventure, and families are willing to pay for quality pet care.

Lemonade stand 2.0: This seems a bit cliché but stay with me. The key to success for this idea is based entirely around location. Setting up a stand in your driveway will barely result in a profit. However, setting up in a spot next to a busy basketball court, near a community yard sale, a local park/playground, or anywhere there is likely to have a high volume of foot traffic with parched patrons is essential.
Additionally, think outside of the box with your product options. Consider bringing a cooler of ice with Popsicles and bottled water. Bring some non-perishable, prepackaged snacks. The options here are limitless, so be creative! Help your child to advertise on community social media sites so people know where to find them.

Garage sale: Most parents (and Marie Kondo) would agree that we want less clutter in our homes. Kids often have many toys and items they have outgrown. A garage sale is a great opportunity to clear out the playroom and for kids to make a little cash.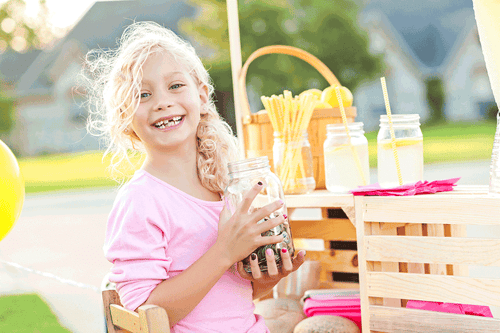 Money Makers Ages 12+
This age group has the highest skill set, and, therefore, the greatest opportunity to earn extra money. Keep in mind that formal employment will require a work permit for kids under age 18, which can be obtained in the main office at your school district of residence.

Golf caddie or newspaper delivery: According to the PA Department of Education, "Minors under the age of 14 can be employed as follows:
1. An individual who is at least 12 years of age may be employed as a caddy if the minor does not carry more than one golf bag at a time and employment is not for more than 18 holes of golf in a single day.
2. An individual who is at least 11 years of age may deliver newspapers."
Child labor laws vary from state to state so check the law where you live.

Sports lessons: Calling all athletes! If your child has a talent for shooting free throws, hitting homeruns, sticking back tucks, throwing touchdowns, or any other athletic skill, they can help younger kids hone their skills and make some extra money, all while doing what they love. This applies to artists, musicians, writers, etc. Encourage your kids to use their talents!

Tutoring: Many parents are seeking assistance to remediate or advance their child's academic skills during the summer months. If your child has an exceptional aptitude in math or reading, they can help others while making extra money! They can advertise their tutoring service on social media or sign up with a program such as care.com.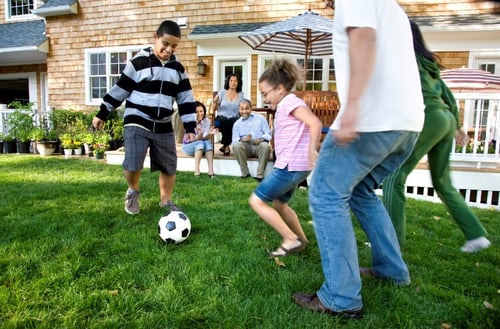 No matter your child's age or skill set, there is something out there for everyone. If you are looking for more ideas, there is a plethora of suggestions online. Do some research and find something that works for your family.
Be sure to subscribe to our blog to see our upcoming post on teaching your kids about money management.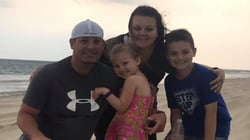 Sara Lutz is a Business Teacher Facilitator at Lincoln Learning Solutions and has been working in online learning for 14 years. Sara enjoys spending her free time cheering on her kids at their various sports events, visiting the beach every summer, and watching movies with her family.