Picture it: It's December 1—you're still full from Thanksgiving and just kicked off the holiday season by fighting the Black Friday crowds. You think you have it all together until you hear the little voice in the next room shout loudly at 6 a.m., "Mom, Alfie is here! Alfie is here!" As you wake up thinking yet another stray cat arrived on your doorsteps, you realize Alfie is your Elf on the Shelf, and he's still buried with the leftover wrapping paper somewhere in the attic. Nope. Alfie is not here.
The struggle is real. I debated for quite a while before deciding to bring Alfie into our home this year, but so far my two girls, ages four and two, are having a blast. To be honest, my husband and I are secretly enjoying it, too. The kids jump out of bed every morning excitedly searching for what our elf will be doing today.
This morning, he was hiding in a snow boot, trying to stow away on the trip to preschool. However, not every morning is a quick toss into a shoe or placement from a curtain rod. I have come up with a few ideas that take little time to prepare but will surely keep your youngsters learning, growing, and developing fundamental skill sets.
#1: Read the Book
Skills: Reading and listening comprehension
Each Elf on the Shelf comes with a book that explains the tradition, as well as how to treat the elf and what to do to prepare for Christmas. On the first day, take the time to introduce your elf, give it a name, and learn about why it is in your home. If your elf is a returning visitor, it's still important to read the book and refresh your little ones' memory of the importance of good behavior during the next few weeks.
Reading to your children is one of the best ways to stimulate reading and listening comprehension skills at an early age. When you are finished reading the story, ask your children about the book and what they learned. Even my two-year-old sat through a good portion of the book and was able to put some pieces together in terms of who the elf is and what Alfie's presence in our home means.
#2: Start a Christmas Countdown
Skill: Math and number recognition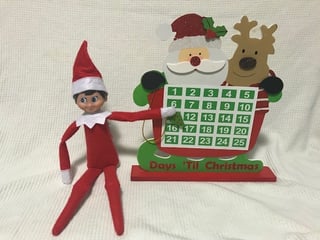 My girls love seeing the days dwindle until Christmas. Watching the days go by on the calendar helps them to understand the number of days left until we celebrate Christmas. It also helps to eliminate the inevitable, repeatable question, "When is Santa coming?"
You can purchase a small calendar at a major retailer or make one yourself. Have your children count from the beginning of December to the current date. You may find that by Christmas, your kids can count to 25 (if they don't already). This activity works on basic number recognition and math skills.
#3: Spell Your Name
Skills: Spelling, letter recognition, and word recognition
Right now, my four-year-old wants to know how to spell everything.
E-V-E-R-Y-T-H-I-N-G. She recently learned how to spell her name, so I used this to my advantage. Alfie arrived with letters and spelled his name. He also brought the letters for my daughter's name, along with a few extras.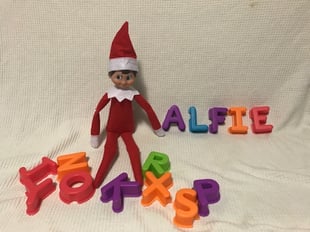 When my daughter found him, she immediately began sorting through the letters to spell her name. Once she was done, she was so thrilled that she continued working with the letters until she spelled Alfie. I didn't even have to prompt her. She had recognized how the elf's name was spelled, mixed up the letters, and arranged them herself. Not all children will be able to spell out their names alone, but you can always take a few minutes to work with your child.
My youngest recognizes most letters and feels so excited to see her name spelled out for her. Then, we practice saying the letters in order so that she gets used to spelling her name aloud.
#4: Write a Letter to Santa
Skills: Motor development and writing
My children do not write yet, but we all worked together to write letters to Santa. I thought for sure they would spout off hundreds of items for their list, but in that moment, they came up with only two. Even though I was relieved my hand would not endure hours of cramping, I wanted to help them reflect on the items they really wanted from Santa.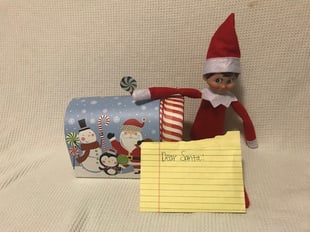 When we were finished with our letters, we put them in a little mailbox, and Alfie took them to the North Pole. You can purchase a cardboard mailbox at major retailers or a craft store, or you can place letters in your home mailbox. The next morning, the girls found a Hershey kiss and a note from Santa, assuring them he had received their letters. Their expressions were priceless.
#5: Make "Christmas Cookies"
Skills: Motor and sensory development
If you're brave and let your children play with any type of craft dough, this one is for you. My kids love slime, kinetic sand, dough, and basically anything else that results in a crazy mess. The bonus for you is that these activities keep kids busy long enough to make some coffee or start breakfast in peace.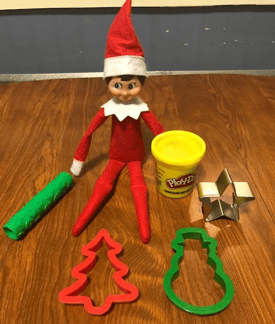 First, set your Elf up with a jar of Play-doh or other craft dough, a rolling pin, and some cookie cutters. Then, have your children form shapes in the dough. Encourage them use the cookie cutters to create shapes as well. Doing so is a great way for little ones to practice motor development and recognizing how shapes create objects. Working with the dough will also elicit your children's the sense of touch. The consistency of dough is perfect for sensory development.
Mom tip: If you're worried about the mess, take a 9 x13 baking pan and place the dough inside. That typically keeps most of the mess contained.
Figuring out what to do with your Elf on the Shelf can take some time, but it doesn't have to be stressful or costly. What I have learned in my first year with Alfie is that my girls love engaging with him. They are learning so much about fundamental development skills outside a formal school setting. Plus, seeing their anticipation each morning makes it all worthwhile. These activities have been toddler—and mom—approved!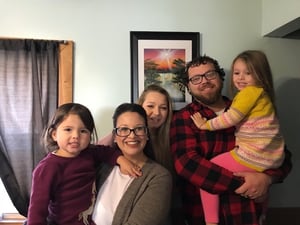 Nicole Thompson is the 6-8 English Language Arts Lead for Lincoln Learning Solutions and has been with the company five years. She has a Bachelor of Arts in Communications and a Master of Science in Instructional Leadership, with certifications in English and Communications. Nicole is married with three children—Malia,15; Kinsley, 4; and Audrey, 2—and has a spunky Golden Retriever named Cinder. She is also an active member of her church and a volunteer with the Butler County Humane Society.