Summertime is about making memories and enjoying family time. If you aren't careful, summer fun can leave a hole in your wallet.
To help you beat the heat (and balance your budget), we've compiled this list of free family activities in and around the Pittsburgh area.
The Point and Riverfront Park
Located in the heart of downtown Pittsburgh, Point State Park and the water steps on Pittsburgh's North Shore Riverfront Park Walk are great places to spend a sunny summer day. Pack a picnic lunch, enjoy the fountain, and take in the sites of the three rivers at the park.
A short walk across the river will take you to the water steps just outside of PNC Park. It's free for kids to play in the water, while you take in the beautiful cityscape.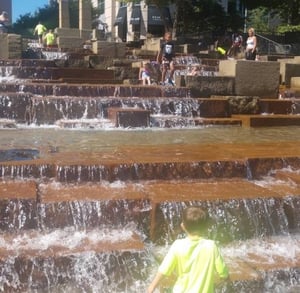 PPG Plaza Water Feature
A visit to the PPG Plaza Water Feature gives your kids a chance to cool off while experiencing the urban setting of downtown Pittsburgh. Here, you can sit and watch your kids run through the fountain. If you stay until dark, you'll be treated to a beautiful, color-changing atmosphere.
Note: If you do plan a visit, be sure to bring a change of clothes. Bathing suits are not permitted, and shoes are required.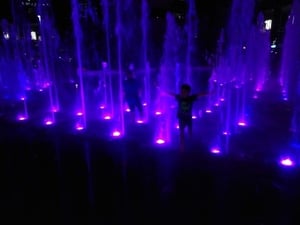 Community Parks
Alameda Park, Butler
Butler's Alameda Park offers playgrounds, picnic areas, a mountain bike trail, and beautiful streams where children can use nets to catch and release small fish.
Alameda is also home to a community water park. While the water park isn't free, they do offer discounted admission prices after 4:30 p.m. Be sure to check the website for details.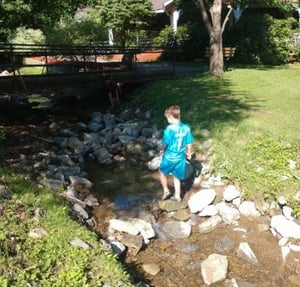 Graham Park, Cranberry Township
Graham Park offers a wide variety of activities including fishing, baseball, basketball, tennis, horse shoes, soccer fields, a bike trail, and more. Younger children will love playing on the huge pirate ship and unique playground equipment, which is a few steps away from a snack bar.
This is an amazing park, and it's absolutely beautiful. There is something for every age! Check the website for a full list of activities.
Crooked Creek, Ford City
Crooked Creek is located north of Pittsburgh in Armstrong County. Here, you'll find a lake for swimming in addition to ball parks, playgrounds, and bike trails. For those who love to fish, the fisherman's trail will take you a short distance through the woods to a fishing spot on the lake shore.
If you decide that you love the location, you can rent a camping spot and stay. You can also visit the spillway to kayak or fish. Crooked Creek's trails are also a great spot for geocaching.
Round Hill Farm, Elizabeth
At Round Hill Park, your kids can visit a working farm and then play at the spray park. These activities are all free! You'll also find many pavilion spaces for picnics, a duck pond, a milk house, and bike trails for exploring the surrounding area.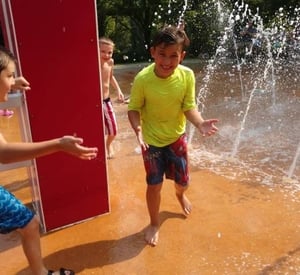 Bonus: Fall Freebies
When the long summer days come to an end, don't worry! There's more free fun to be had in Pittsburgh. Check out RADical Days in early fall when many otherwise paid children's activities offer free admission.
During RADical Days, you can visit the Pittsburgh Zoo & PPG Aquarium, the Carnegie Museum of Natural History, the Carnegie Science Center, the Children's Museum of Pittsburgh, and many more venues for free.
Note: RADical Days can get very busy, so plan to get there early!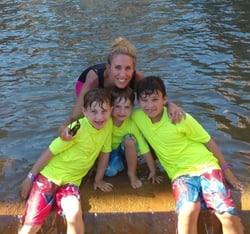 Heather LiVorio has 12 years of combined online and classroom teaching experience. She currently teaches Science and Family Consumer Sciences for Lincoln Learning Solutions and has been employed with the company for 5 years. Heather enjoys spending time with her three boys and family, vacationing at the ocean, and going on adventures.