When you see them on the street, they look like typical middle school students. Thanks in large part to their teacher, Kerry Wilson, these kids are difference makers. Together, they are the Band of Hope.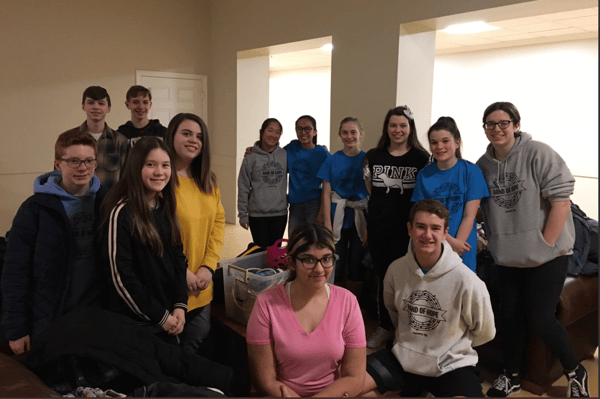 Photo courtesy of Kerry Wilson
Wilson is the band teacher for grades 5 through 8 at Hopewell Middle School. She started the Band of Hope as an afterschool program for her 7th and 8th graders. Once a month, she and her students travel to Hopewell Pediatric Specialty Care to play music for and with the residents, who are technology-dependent and medically fragile infants, children, and young adults.
The band's most recent visit was extra special because they arrived with new instruments for the residents to use.
In October, Wilson applied for the Great Ideas Mini-Grant program through the Beaver County Educational Trust. In December, she received a $500 mini-grant and used the money to purchase portable keyboards, hand drums, rhythm sticks, maracas, shakers, and other instruments for her students and the residents to use during their time together.
"The Great Ideas Mini-Grant program rewards creative teachers who are willing to give a little extra to expand the learning of students beyond the walls of the classroom," the Trust's Executive Director Jamie Connelly said.
In 2018, the program funded 42 mini-grants. Connelly explained that a team of reviewers looks at grant applications and ranks them against a scoring rubric. The reviewers award as many grants as funding allows, all of which is provided by Lincoln Learning Solutions.
In its 27-year history, Connelly said the mini-grant program has funded 528 grant requests totaling $330,000 and has reached more than 90,000 K-12 students in Beaver County. Of those funds, Lincoln Learning Solutions has donated $95,000 since its involvement in the program began in December 2014, said George Pacinda, vice president of philanthropy at the educational nonprofit.
Wilson is no stranger to grant requests. She began working with Hopewell Pediatric Specialty Care in 2015 after receiving the Quaker Valley Service Learning Grant. She explained that the grant application asked, "If you could teach anything in an afterschool program, what would it be, and what would you want your students to take away?"
"Of course, I wanted to teach music," Wilson said, "and the Pediatric Special Care was in the area, and it was a good opportunity for kids to work with kids."
Among the many things her students are learning through the Band of Hope, Wilson said that empathy, collaboration, and creativity top the list.
Getting middle school students comfortable working with medically fragile children comes with its challenges. Wilson said the group's first visit consisted of a tour only so that students could ask questions and get a sense of the residents and their needs.
"When I walked in, it was sad at first," 8th grader Orianna Oudit said. "When you interact with them, it's heartwarming and makes you smile."
The residents were smiling, too. Amy Saroceno, a speech therapist at Pediatric Specialty Care, said it is evident that the children under her care enjoy the performances.
"It's an opportunity for them to see typical peers, and it's their only opportunity to see live music," Saroceno said. "They definitely respond differently to kids than they do to adults."
In addition to new instruments, Wilson explained that the nature of this year's visits to Pediatric Specialty Care received an upgrade.
"When we started, the band would perform for residents for a half hour. This year, students are coming up with ideas for activities that allow them to personally interact with the residents," Wilson said.
"I feel like I'm doing something good," 7th grader Michael Sardo said. "I'm using what I like to do to help someone else."
Judy Wentzel, occupational therapist at Pediatric Specialty Care agreed. "Anything that is different from their every day is good," she said of her patients.
"I'm so proud to have the opportunity to be part of this project," Connelly said. "It brought tears to my eyes to see the kids interacting [with each other]."
The Band of Hope's commitment to the children at Hopewell Pediatric Specialty Care is evident in the motto on their shirts. It reads, "Making a difference, one note at a time."
Applications for the Great Idea Mini-Grant program will be available through the Trust's website in September, and applications are typically due in mid-October.