As we continue to highlight the female leadership at Lincoln Learning during Women's History Month, we turn our attention to Kelly Ciorra, Director of Project Management.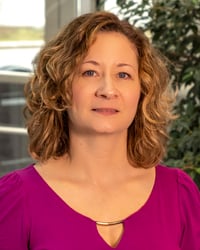 Kelly began her career at Lincoln Learning nearly five years ago as a project manager in the Information Technology (IT) department. In this role, Kelly managed a wide range of projects, including those in IT, curriculum development, and human resources. She later moved to the Academic Affairs department and assumed her current role.
Prior to joining the team at Lincoln, Kelly worked in the transportation industry, a mostly male-dominated business. It was there that she came face to face with many gender barriers.
"You have to prove yourself more than the next guy, literally, and you have to have really thick skin," Kelly said. "The most significant barrier was first knowing that you have a voice, using that voice, and being taken seriously."
Throughout her career, Kelly said that she's learned the importance of being a good role model.
"If you have a good work ethic and take care of the people around you, your work and character will speak for themselves," she said. "Never be afraid to ask the question. In a room full of people, chances are someone else has that same question, but is afraid to ask. Be that person that asks the question."
To Kelly, leadership is about supporting the teams as much as it is about taking responsibility when necessary.
"Take care of the people around you, and your work and character will speak for themselves."
"Leadership, to me, is standing behind people, supporting them, and giving them the credit for success, but also standing in front of them and taking responsibility when things are not so successful."
Her leadership style is evident in the overwhelming pride she feels for the accomplishments of the project teams she directs.
"I have been known to happy cry at the end of projects. I am always so proud of everything the project teams go through, learn, and improve upon within any given project -- it just makes my heart happy!"
When asked to reflect on which woman in history inspired her, Kelly's thoughts went to her mother.
"My mom has inspired me throughout life. She is the strongest woman I know. She raised me to believe I could do anything in life," Kelly said.
"I watched her struggle as a single mother, sometimes working two jobs just to make sure we had what we needed. I watched her be a union steward in a factory, standing up for the rights of her co-workers, while also keeping the lines of communication open and understanding the requests of management."
Kelly explained that her mother is still putting others first.
"She is the care-taker for many of our family members; running them to their doctor's appointments, being there for them, holding hands near end-of-life, and taking care of the loved ones who are left behind and grieving. She has taught me so much about standing up for what is right and having humility and compassion."
Her advice for future female leaders reflects her upbringing.
"Be a servant leader," she said. "If you live to serve others in that role, you can rarely go wrong. Do your best to bring out the best in people; everyone inherently wants to do well – it's your job to help them succeed."