There is no doubt that The Center in Midland is making a difference in the small Beaver County town.
This faith-based community outreach center offers an array of services for children and adults including childcare, cooking and art classes, a 4H Club, clothing and food distribution, and women's ministry, to name a few.
In January, The Center piloted a peer mentoring program in which children ages 4 to 8 were paired with local high school students. The Center's Executive Director, Jen Miller, said the goal of the program was twofold.
"High school mentors learn leadership and communication skills," Miller said, "while their mentees received educational and emotional support."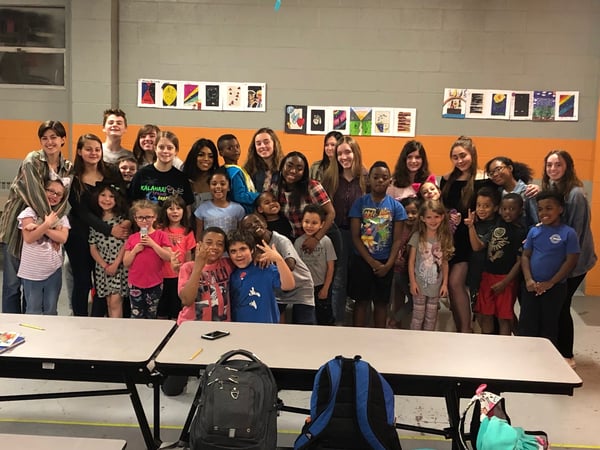 The Center - Midland peer mentoring program participants
Jen and her husband, Cory, The Center's program director, said they had planned and budgeted for eight matches in their first year. After contacting Beaver Area School District and Lincoln Park Performing Arts Charter School in search of student mentors in September of last year, they were overwhelmed by the student response.
By October, Jen said that 25 students had completed the application and training process, and they were all accepted into the program. Knowing they would be over budget, The Center's board approved the increase and the program was sustained though The Center's student ministry fund.
"They were all excellent candidates," Jen said, "and we believe in the amazing potential of mentoring. We have so many students who we knew would truly benefit from the program and having a mentor."
With the one-to-one match, 50 students were able to participate in the pilot.
Knowing they would need additional funds to support and grow the program, The Millers turned to the Rochester-based educational nonprofit Lincoln Learning Solutions for help.
In March, Lincoln Learning's Grants and Donations Committee awarded an $8,000 grant to The Center to help sustain the program and expand its reach in the fall.
Jen explained that the funds will be used to provide snacks and craft supplies for the students in addition to mentor training materials. It will also allow The Center to expand the program to 30 matches next year -- 60 students total -- and offer a stipend internship.
All student mentors are enrolled in grades 9-12 at Lincoln Park Performing Arts Charter School and Beaver Area School District. All mentees are from Midland Elementary-Middle School.
Jen said that members of the school's student council are helping to promote the program to their peers. To become a mentor, students must complete an application and provide teacher and parent references. Jen said that all references are called to ensure the student will be a good fit for the program.
"Being a mentor helps high school students to gain self-confidence, leadership skills, and a sense of responsibility," Cory said.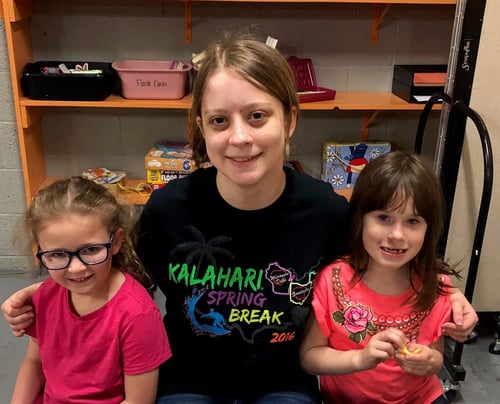 From left: Kenzie Chambers, Adrianna Miksch, and Sophia Deem
Mentors and mentees meet once a week from January through May for one hour. During that time, they share a snack while the mentors help the mentees with homework. Afterward, the mentees can choose to do a craft or play a game with their mentor.
"I really like being around the kids and having fun [with them]," said Adrianna Miksch, a senior mentor from Lincoln Park. "Talking with my mentee helps her learn to interact and socialize better, and it helps me, too."
Chyane Sims said of her mentee, first grader Z'yon Vaughn, "He's so funny, and he makes me laugh every day. We learn off each other, and the environment is so happy." Sims is a ninth grader at Lincoln Park.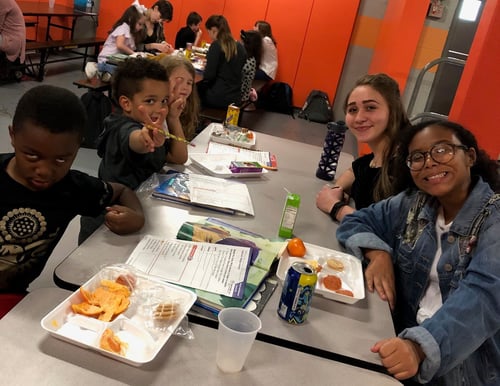 Front: Z'yon Vaughn and Chyane Sims Back: Travid Pugh and Shaiane Matotek
As the first year of The Center's peer mentoring programs nears its end on May 15, Jen said she is hopeful that mentors can be matched with the same mentees next year. She said one senior mentor is planning to major in psychology when she begins her college studies next year and is already interested in returning for the internship opportunity.
The Center will accept new mentor applications from September through mid-October. Mentor training will be held in November, and a mentor/mentee meet-and-greet session will happen in December. The program will officially resume in January 2020.
For more information on The Center's peer mentoring program, or to download mentor/mentee applications, visit their website at https://www.midland.center/mentoring.