Lincoln Learning executives and staff recently visited MHY Family Services Longmore Academy to make a sizable contribution to student learning.
The private academy, which provides education for at-risk youth in grades 3 through 12, received the following educational resources:

Seven teacher computers

Forty-two Chromebooks

Teacher and student access to Lincoln Learning's digital content repository

Professional development services
The monetary value of the donations totals more than $18,000.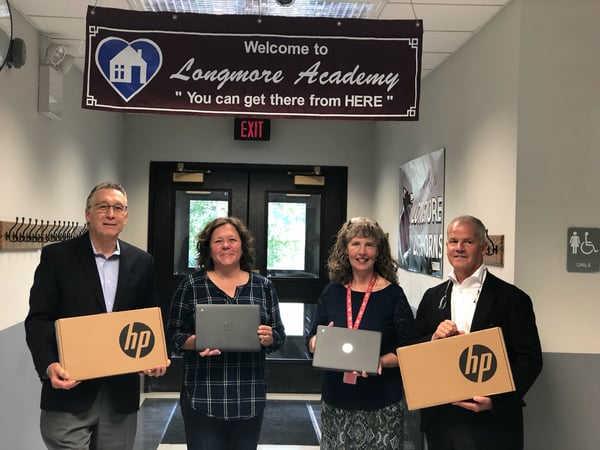 George Pacinda, Vice President of Philanthropy, Lincoln Learning Solutions; Christine Raymond, Director of Education, MHY Family Services; Lisa Schiller, Executive Director, MHY Family Services; Bob Clements, President/CEO, Lincoln Learning Solutions
Chris Swory, Administrative Assistant at MHY Family Services, said the new equipment will replace the 10-year-old technology currently used by students.
"The laptops were freezing, and we did not have enough equipment for all students," Swory said.
She explained that, with the donations they received from Lincoln Learning and other providers, they can now put at least 12 Chromebooks in each classroom, which equates to one per student.
The additional laptops and Chromebooks will be used to support MHY's STEM program and the two emotional support classrooms in addition to the elementary, science, math, and English classes.
Longmore Academy teachers spent the day with Casey Sadler, Lincoln Learning's Senior Manager of Professional Development, in a session focused on Lincoln's learning object repository. This repository acts as a digital library filled with learning objects, bite-sized pieces of curriculum content. This content can be used to support the individual learning needs of students.
Lincoln's learning objects can be combined, rearranged, or printed to personalize learning. In addition to readings, the content repository also includes games, videos, and practice activities that Longmore Academy teachers can use to supplement existing curriculum.
"The teachers were very excited about having the ability to provide materials that align with students' individual learning levels," Sadler said. "They were a fun group, and they had some great ideas for incorporating games and interactive materials into their classrooms."
Christine Raymond, Director of Education at MHY Family Services, explained that access to the digital content repository will be a tremendous resource to her staff, aiding in individualizing instruction, lesson planning, and enhancing student academic achievement.
"We anticipate that student engagement will increase as they have more access to specially designed instruction," Raymond said.
The MHY Family Services and Lincoln Learning partnership isn't new. In fact, George Pacinda, Vice President of Philanthropy at Lincoln, explained that the organizations have been working together for the past four years.
"I can't wait until next year to see all that ways that we can continue to help these students," Pacinda said.
Earlier this year, Longmore Academy teachers received a grant from Lincoln Learning for Tower Gardens. These soilless gardens are providing students with unique, hands-on learning experiences.
Raymond agreed that the partnership is having a positive impact on her students.
"The generosity of Lincoln Learning has enabled MHY Longmore Academy to expose students to a variety of academic experiences including art, music, and STEM. With the recent access to Lincoln Learning's digital library, we will have an even greater impact to expand what we offer in terms of curriculum," she said.