For the last year, Valerie Kaufman, a student support services liaison for Lincoln Learning, has volunteered for The Children's Heart Foundation. This national organization's mission is to advance the diagnosis, treatment, and prevention of congenital heart defects in children by funding the most promising research.
This organization has a special meaning for Valerie because her son, Maksim, was diagnosed with a congenital heart defect at 6 weeks old. Valerie explained that congenital heart defects (CHDs) are the most common birth defect in the United States, affecting nearly 1 in 110 children. This means that a child is born with a CHD every 15 minutes.
After her son's diagnosis, Valerie wanted to create something positive, so she became a volunteer in early 2019. Her main role, besides bringing awareness to congenital heart defects, is to help organize the annual Pittsburgh Congenital Heart Walk. In doing so, Valerie develops the walk day activities by securing and managing entertainment vendors and youth activities in order to create family-friendly atmosphere on walk day.
Valerie's other responsibilities include marketing outreach, volunteer coordination, logistics planning, and attending walk volunteer summits.
"It has been an honor and privilege to volunteer for The Children's Heart Foundation," Valerie said.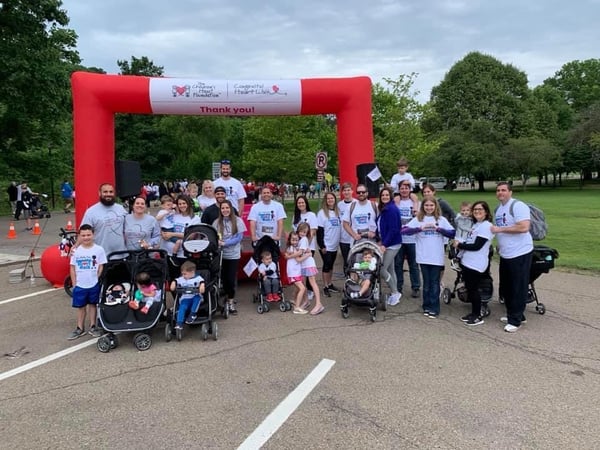 Last year, there were 24 national heart walks for the foundation that generated 1.56 million dollars. Since the start of The Children's Heart Foundation in 1996, they have been able to fund millions of dollars of CHD research that include 119 research grants and other scientific collaborations. This research has helped to improve survival rates, longevity, and the quality of life for individuals living with CHDs.
"The mission of The Children's Heart Foundation means a great deal to our family because their funded research is saving many lives and could one day save our son's life," Valerie said.
The 2020 Pittsburgh Congenital Heart Walk will be held on October 25 at the North Park Boathouse. To learn more, visit The Children's Heart Foundation website.